This is an incomplete, and growing list.  Most of these books are available in public and academic libraries throughout the northeastern United States. Many can also be ordered through your favorite bookseller, whether a local bookshop or online seller.  Books prefaced with an asterisk (*) have good bibliographies that are specifically relevant to scholarly research on stone walls.
*Allport, Susan, 1990, Sermons in Stone; The Stone Walls of New England and New York. New York, NY, W.W.Norton. — An excellent overview of the phenomenon by a skilled writer.  Topic by topic, rather than systematic. 
Barber, John Warner, 1838, Connecticut Historical Collections. New Haven, B.L. Hamlen, Co. —– A pictorial overview of the state in the early to mid 19th century with exellent historic engravings and lithographs.  Replicagted in other states as well. 
Bowles, Oliver, 1939, The Stone Industries, Second Edition. New York, McGraw-Hill.—An amazing text written by a mining engineer that estimated the length of stone wall in the region in order to convert a resource into a mineral reserve. His idea was to mine then all. 
*Cronon, William, 1983, Changes in the Land: Indians, Colonists, and the Ecology of New England. New York, Hill and Wang. — The  definitive and popular text providing cultural and ecological background for the phenomenon of stone walls. 
Deane, Samuel, 1790, The New England Farmer: Or Georgical Dictionary. Worcester, MA, Isaiah Thomas. — An excellent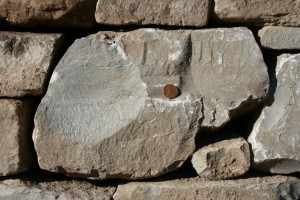 Dwight, Timothy, 1821, Travels in New-England and New-York: New Haven, S. Converse, printer.
Feintuch, Burt and Watters, David H., 2005, The Encyclopedia of New England: The Culture and History of an American Region. Yale University Press.
Field, Curtis, 1965, The Forgotten Art of Building a Stone Wall. Dublin, NH: Yankee Magazine. — this old standby, written by an amateur turned mason in retirement,  is hard to find. It's well worth the trouble to find, if only to appreciate how long this enterprise has been going on.
*Foster, David R., and O'Keefe, J.F., 2000, New England Forests Through Time: Insights from the Harvard Forest Dioramas. Cambridge, MA, Harvard Univ. Press.
Gardner, Kevin, 2001, The Granite Kiss: Traditions and Techniques of Building New England Stone Walls.  Illustrated by Guillermo Nunez.  Woodstock, VT, Countryman Press.
Hubbell, William, 2006, Good Fences: A Pictorial History of New England Stone Walls, Portland, ME, DownEast Books,
*Jackson, J. B, 1980, The Necessity for Ruins and other Topics. Amherst, Ma, Univ. of Massachusetts Press.– a seminal work on thinking about the past and the role of stone walls in it. 
Jerome, John, 1996, Stone Work: Reflections on Serious Play and Other Aspects of Country Life, Hanover, NH: University Press of New England — a lovely meditation on building a stone wall in modern times. Why bother?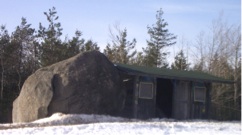 Lamar, H. R., and Cooper, C.C. (editors), 2003, Voices of the New Republic. Connecticut Towns 1800-1832, Memoirs of the Connecticut Academy of Arts and Sciences, v. XXVII.  –— A good overview of time and place when most of the stone walls were being constructed.
Lenny, C.J., 2003, Sightseeking: clues to the landscape history of New England: Lebanon, NH., University Press of New England. — a scholarly overview of how our culture looks at landscapes on which the walls are a part. 
MacWeeney, Alan and Conniff, Richard, 1986, Irish Walls.  New York: Stewart, Tabori & Chang (Abrams).  — A lovely photographic book with text adapted from MacWeeney, 1980, below.  One can see just how different New England walls really are. 
McAffee, Pat, 2000, Irish Stone Walls: History Building Conservation. O'Brien Press.  –– An all around survey of the phenomenon. 
MacWeeney, Alan, 1980, Stone Walls of Ireland.  London: Thames and Hudson, Ltd. — a scholarly history of the phenomenon in Ireland.
McRaven, Charles, 1999, Building Stone Walls.  1999 – Building Stone Walls (Excerpted from Stonework, by charles McRaven): Storey Publishing LLC. A Storey Country Wisdom Bulletin; A-217. ( ISBN -10: 1-58017-265-2), — This is pamphlet-sized, inexpensive and very clear.
Murray-Wooley, Caroyn, 1992, Rock Fences of the Bluegrass: Perspective on Kentucky's Past.  Lexington, KY: University Press of Kentucky. — A scholarly, but readable treatment of an entirely different tradition of stone-walling. Reading this provides the counterpoint to the landscape of New England.  
*Raymo, Chet and Raymo, M.E., 1989, Written in Stone, A geological and natural History of the Northeastern United States. chester, CT, The Globe Pequot Press.
Shaler, Nathaniel. S., 1891, The Origin and Nature of Soils, U.S. Geological Survey 12th Annual Report, 1890-1891 (p. 213-345), Washington D.C., Government Printing Office.
Snow, Daniel, 2001,  In the Company of Stone: The Art of the Stone Wall (photography by Peter Mauss).   Artisan Books,  ISBN 1579651836. — A good sample of the imagery of drystone work by an expert, including his process of creativity.
*Stilgoe, John R., 1982, Common Landscape of America 1580-1845. New Haven, CT, Yale Univ. Press.— Contains much about the land subdivision leading to walls.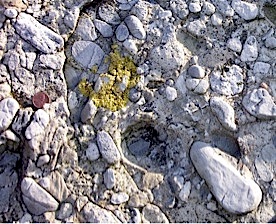 Thorson, Kristine and Robert, 1988, Stone Wall Secrets. Gardiner, ME, Tilburyhouse Publishers (Illustrated by Gustave Moore).
Thorson, Robert, 2002, Stone by Stone: The Magnificent History of New England's Stone Walls. New York, Walker & Company.
Thorson, Robert, 2005, Exploring Stone Walls: A Field Guide to New England's Fieldstone Walls.  New York, Walker & Company.
Vivian, John, 1976 – Building Stone Walls,  Pownal, Vermont: Garden Way Publishing, —  As straightforward as its title, this book is the standby, a no-nonsense primer, a simple how-to book.  This is widely available. 
Wessels, T., 1999, Reading the Forested Landscape; A Natural History of New England, Woodstock, Vermont, Countryman Press.––Good adjunct to stone wall investigations. It shows the clues within the living forest that can be compared to those in walls. 
Whitney, G.G., 1994, From Coastal Wilderness to Fruited Plain: A History of Environmental Change in Temperate North America from 1500 to the Present. Cambridge, UK., Cambridge Univ. Press.  –— The detailed survey of deforestation, especially early, that drove the impetus to build walls.