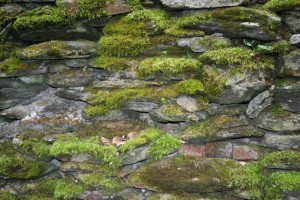 Stone walls are drylands that complement the  wetlands of New England, many of which are also byproducts of the agricultural settlement period.  Biologically, walls are local deserts in an otherwise moist woodland world.   They are corridors for other animals: who among my readers has not yet seen a squirrel hopping along the spine of a wall enroute to his or her cache?  One side of a wall is shaded, the other sunlit.  One catches the drifting snow. The other is fully exposed.  These are just a few of the many contrasts walls give our woodland world.
The entire first chapter of  Exploring Stone Walls is devoted to "Life on Walls." A sub-chapter of Stone by Stone is devoted to walls as  habitats.
More rigorous scientific studies are in progress.   As this website grows, it will feature  them as they come to my attention.  Till then, I offer a gallery of photos showing  life on walls in one form or another.