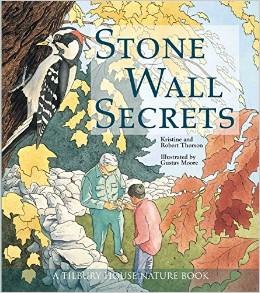 In 1998, Kristine and Robert Thorson published their award-winning illustrated children's book Stone Wall Secrets (Illustrated by Gustav Moore). Published by Tilbury House of Gardiner (now Thomastown), Maine, this book was re-issued as a Tilbury House Nature Book).
Listen to the epigraph of Stone Wall Secrets
AWARDS
1998 – Smithsonian Notable Book for Children.
1998 – Bookbuilders of Boston (New England Book Show; for the material book (I was told)):
REVIEWS
A few professional reviews are highlighted below:
Children's Literature: "This heartfelt picture book features a well crafted story, detailed descriptions, and distinctive paintings. After reading this outstanding publication, readers will never look at old stones the same way again Stone Wall Secrets promises to engage readers at every age, and will be a favorite of generations for years to come."
School Library Journal: "A grandfather gives his grandson a lesson in geology, history, and family pride as they examine the stone walls defining his New England farmstead. Often filling two pages, the colorful, realistic paintings provide a clear picture of the past and present."
Smithsonian Magazine, having selected it as one of their Notable Books for Children, wrote: "On a fine autumn day, a grandfather and grandson repair the wall on their farm. The rocks they heft offer passage to the realms of geology, history, and anthropology in a seamless, richly interdisciplinary narrative."
New York Times: "The Thorson's book is aimed at sparking the curiosity of elementary and middleschool students."
Appraisal: "This book will appeal to children and to anyone who wants children to love learning science. Stone Wall Secrets should be in every library that provides science books to children."
SCHOOL ENRICHMENT
Professor Thorson does occasional classroom visits and workshops to facilitate the use of Stone Wall Secrets in the classroom. There is also a curriculum for teacher use, a Teachers Reference,  a Teaching Kit and a teacher's guide as well.