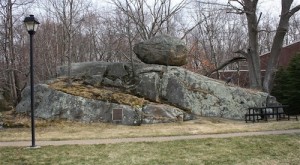 By special places, I mean those that involve elements of the stone domain  and are unique in some way due to the cultural associations.  This part of the website will be posting images and descriptions of special places in New England that do not fit the conventional classifications and patterns.
SAMSON'S ROCK
Consider  Samson's Rock, in Madison, CT, below which a bronze plaque was placed by the Madison Foundation, Inc., the Rotary Club of Madison, and the Stop and Shop Supermarket Co.  It reads:
This beautiful landmark, SAMSON ROCK, is a boulder precariously placed on a large outcropping of glacial deposit. As with most wonders of the natural world, there are legends and stories to explain their presence. The local Native Americans of this place in the 17th Century told of a giant, Odziozo, who followed a flock of geese down the glacier covering New England long ago. The giant had just created beautiful Lake Champlain (Petoubouque) and now found himself in the center of Madison, Connecticut. While here, he created Tuxis Pond, Tuxis Island and Samson Rock.
 It is a long story, but when the early settlers from Europe chose this beautiful place to live, they wanted to make a legend of their own to explain the boulder. Since Samson was known as the strongest man in the world, according to the Old Testament of the Bible, his name was used as the giant who scooped up earth, threw it in the Sound, stepping on the rock as he did so. Well, it must be true because the giant's footprint is still on Samson Rock. Odziozo or Samson, whoever created this unusual landmark, did a fine job.
It goes without saying that the Paleozoic rock on which it sits is not a glacial deposit.  Nor do I know of any Native American oral tradition holding that a glacier covered New England during its creation.  Finally,  I can hardly make sense of the 17th century biblical attribution.
NEXT ONE HERE….
If you know of any such places, please send them in, with or without texts. I will credit the source and clear any texts with the sender before publishing it on the site.