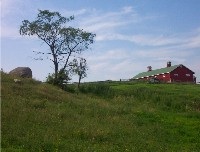 Here's a list of questions that people have asked me, usually over and over. If you can't find the question you need answering, there are many resources to consult.  Or just contact the SWI.
Answers are given below, by question.
Who?
When?
How many?
Why New England?
Why so few elsewhere?
Wild walls?
Protected?
Epicenter?
Different kinds?
WHO BUILT THEM ?
The vast majority of the stone walls were built by European immigrants, generally from the British Isles. The oldest documentary record for a New England describes the1607 by English settlers of the Northern Virginia Company, who attempted permanent settlement along the estuary of the Kennebec (then called the Sagadahoc) River north of what is now Portland, Maine (then called Falmouth). Native American stonework is also present, but widely distributed, and generally restricted to mounds, the fundations for fishing weirs, and short stacks of stone, possibly for defensive bulwarks. The existence of ancient European walls– allegedly built by Vikings or Celts — is possible, but unproven.
WHEN WERE MOST BUILT ?
New England's stone walls span nearly four hundred years of construction history, during which many walls have been built, rebuilt, taken apart,and rebuilt multiple times. Most walls however, accumulated as residue along fencelines during the century between 1750 and 1850 when southern, interior, and coastal New England was then a landscape of agricultural villages and family farms, carved from what had previously been a forested wilderness. The half-century between the onset of the American Revolution in 1775 and the opening of the Erie Canal in 1825  was the time of most rapid construction, during which many of these earlier, haphazard walls, were rebuilt.
HOW MANY WALLS ARE THERE ?
In 1939 the mining engineer Oliver Bowles estimated that there were probably more than 259,000 miles of stone walls in the northeastern U.S., most of which is in New England. Many walls have since been destroyed, but probably more than half of these remain.
WHY SO MANY IN NEW ENGLAND ?
Traditionally, New England is considered as the six states of Vermont, New Hampshire, Maine, Massachusetts, Rhode Island, and Connecticut. Geologically, New England also includes the adjacent parts of New York (Long Island and the land east of the Hudson River) and adjacent parts of maritime Canada. Within this region, many walls survive because the farms were abandoned to forest, rather than converted to other uses. And they were common in the first place because the agricultural culture was broadly distributed, and required nearly wholescale deforestation (which exposed the stony subsoils to frost heaving and erosion).
WHY SO FEW WALLS ELSEWHERE?
The southern limit of widely distributed field stone walls — Northern New Jersey has them whereas the southern part of the state does not — coincides to the south with the limit of ice sheet glaciation and to the west with a transition from generally hard irregular bedrock to softer flat-lying bedrock. The transition to the north is from a tillage/pasture land use to wild lands. Only in New England do we find the right combination of soils, history, and agricultural techniques.
WHAT ARE WILD WALLS ?
"Wild walls" are just like wildlife. They exist in the woods and serve no direct human pupose, though they do serve plenty of indirect ones. Many are the same age as historic walls (i.e. they are old), but have not been maintained. They are no more and no less wild than the woodland ecosystem that they are part of.
ARE STONE WALLS PROTECTED ?
Most have no legal protection at all because they are interior to property boundaries. A small percentage are protected in designated historic districts, in public parks, and private land trusts. Otherwise, they have no more legal protection than the soil on which they rest. Ironically, some stone walls are preserved solely because they are surrounded by wetland soils, which have stringent federal, state, and local protection. One important objective of the SWI is to advise towns and organizations on policies that help prevent the reckless destruction of stone walls.
WHERE IS THE EPICENTER OF STONE WALLS ?
Several factors drive up the concentration of stone walls on the agricultural landscape, especially when they co-occur. These are, in decreasing order of importance: (1) a thick and stony stratum of basal meltout till dominated by slabs, (2) early settlement and land subdivision; (3) local prosperity; (4) preservation due to location or intent. When all is said and done, the epicenter of stone walling lies somewhere within a fifty mile radiius of the three-state boundary between Massachusetts, Rhode Island, and Connecticut.
HOW MANY KINDS OF STONE WALLS ARE THERE ?
Each wall is unique, although there are several important criteria in classifying walls. Fundamentally, it is important to distinguish whether walls were built: of fieldstone or quarrystone; mortared or unmortared; associated with buildings or freestanding; or to dispose of stone or create a fence. A taxonomy for walls is a work of progress.