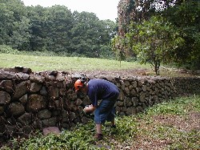 Decisions about stone walls are made from many different perspectives, each having its own self-interests and shared concerns.  Most of us who care about stone walls  fit into several of these somewhat arbitrary categories.
INDIVIDUAL PROPERTY OWNERS
The main concern here is individual rights. The mantra is "Mine, Mine, Mine."  Most landholders do the right thing and are quite sympathetic to the needs of the collective.
LOCAL  RESIDENTS
The main concern is the collective sense of the town geography.  Concerned for the loss of stone walls on the landscape, individuals are doing many things to help protect stone walls. Some examples include:
Becoming more aware of the stone trade, asking questions about where landscaping stone comes from and where it goes, when they chose to buy and sell it.
Assuming there are applicable regulations and laws in place and consulting state and local agencies before doing anything.
Discussing the issue with neighbors and associates.
Writing article in local newspapers and community newsletters.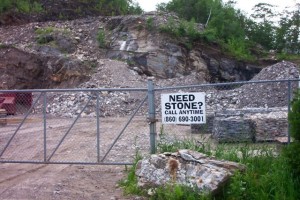 NONPROFIT CONSERVATION ORGANIZATIONS
These people are most concerned about ensuring that some of the landscape is saved for future generations. Their mantra is "Future, Future, Future."
Historical Societies, Land Trusts, Conservation Organizations, Hunting and fishing clubs, Educational Organizations, and others are all putting stone wall preservation on the agendas of their meetings and adopting positions on specific issues.
These groups vote to make decisions about the stone walls on properties they own and manage.
These groups adopt positions in order to influence the decisions made by other groups.
THE STONE TRADE:  THOSE WHO WORK WITH STONE
They are most concerened about the beauty and craft of working with stone in gardens and landscapes. Their mantra is "Beauty, Beauty, Beauty.Masons, architects, builders, quarry operators, excavation contractors are becoming more sensitive to the cultural value of what is otherwise a raw material commodity.
THE TOURIST TRADE: THOSE WHO DEPEND ON SCENERY
Culture tourism is an increasingly big business for state and local economies. The importance of stone walls to local charm and regional beauty cannot be overestimated. The mantra is "Economy, Economy, Economy."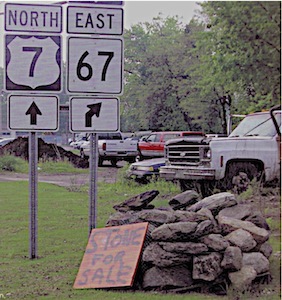 GOVERNMENT
This stakeholder exists only to manage tensions between the other stakeholders. Theirs is the most challenging job. Their mantra must be "Take it easy, take it easy, take it easy." Governments are:
Educating their engineering, maintenance, and facilities staff (road crew, waste, planning, groundskeeping, parks, etc.) about wall resources.
Listening to the Town Planner, who may have started a stone wall map in town, using the GIS systems that are not imperative.  A stone wall layer is a good thing to have in the map stack.