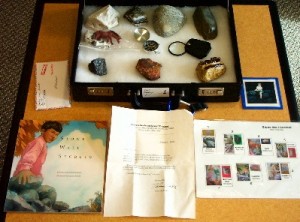 Teacher's Kits
To facilitate using stone walls in the K-8 curriculum we developed 20 copies of a Teacher's Kit to facilitate instruction.  Each consisted of a lockable briefcase with these objects inside:
A collection of seven stones encountered by Grampa and Adam.
A card linking each specimen to its proper name and to the corresponding image in the book (on one side), and giving information about each specimen (on the other).
Related materials, including

a photo of the first author when she was four years old sitting on a stone wall,
a letter from the stone mason with an address from which an answer will come (like a letter to Santa Claus)
a magnifying glass, a magnetic compass, and f arm animals, just for fun.
As of May 25, 2005, fifteen of the kits were accounted for.
Boy Scouts of America, Connecticut (1 copy, April 2005)
4-H Nature Center at Auer Farm (University of Connecticut Cooperative Extension (1 copy; May, 2005)
Montessori School of Greater Hartford (1 copy, May 2005)
Greenwich Public Schools – Advance Learning Program ("Enrichment") (2 copies; April 2005)
West Hartford Public Schools (4 copies, May, 2005)
Stone Wall Initiative Learning Center (1 copy, available for on-site use)
Neag School of Education (4 copies)
Dept. of Geology, University of Vermont (Paul Bierman; 1 copy March, 2005)
Since then, we've lost track of them.  If you find one, keep it in circulation.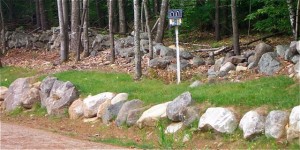 Link back to Overview – Elementary