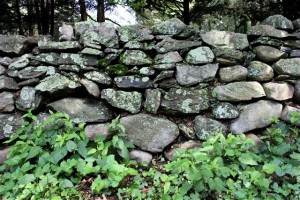 BAD NEWS FROM THE BERKSHIRES
Note:  The following text is exerpted (with permission) from an article written by Richard C. Roberts of Mansfield, Connecticut and titled "Trekking Across the President's Desk," It is reprinted from the quarterly newsletter of a genealogical organization, Descendants of the Founders of Ancient Windsor — Volume XXI, Number 2, Winter, 2004.
I've spent at least some part of every summer since 1955 near this old homestead, and walking down the lane, through the meadow to the pond, has been an important part of my family's heritage. But in the summer of 2002, when repeating that familiar ritual, we were shocked to find that the stone walls that lined the land were being dismantled and the stones being piled on wooden pallets baled together with chicken wire and loaded onto a flatbed tailer, perhaps destined for a garden center or landscaping company. Today, little remains of the walls but a 1903 "pinhole" picture, other more recent photos, and memories.
Later that summer, I attended Mansfield, Connecticut's "Know Your Town Fair" and found Robert M. Thorson sitting a table on behalf of the Stone Wall Initiative. "How did you feel?" he asked when I told him my story. I've never had a completely satisfactory answer to that question, but perhaps feeling "raped and pilaged" comes closest. For, while the property had been sold some 55 years ago and I have no legal say in what the curent property owners can do, part of my heritage and New England's heritage is gone.