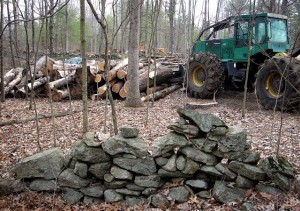 The town of Goshen, CT has created an model ordinance for the conservation of stone walls along town highways.  Having recognized them as essential "agrarian landmarks," and a vital part of town scenery, they have passed this regulation.
Link to Regulating Roadside Walls in Goshen, CT.
The town website is
http://www.goshenct.gov/public-works-department/files/stone-wall-removal-permit-process
Their work was done to minimize the loss of stone walls via:
Homeowners interested in tearing them down, possibly with the intent to sell the stone
Over-reach by road improvements, and
Piecemeal removal of stones from scavenging (poaching) by non-owners.
One key definition in the ordinance is that the "highway boundary" is the centerline of the stone wall flanking it. Walls can be removed and changed with a permit.  Another is that the default action is to leave the walls as they are, rather than the default action being to allow individual landowner to do whatever they like with them. This is a fundamental issue of private property rights versus community rights.
---
Photo:  Not in Goshen.  Roadside stone wall on a town highway in Mansfield, CT is being preserved, even though it is only a historic remnant and logging would be easier without it.  
---