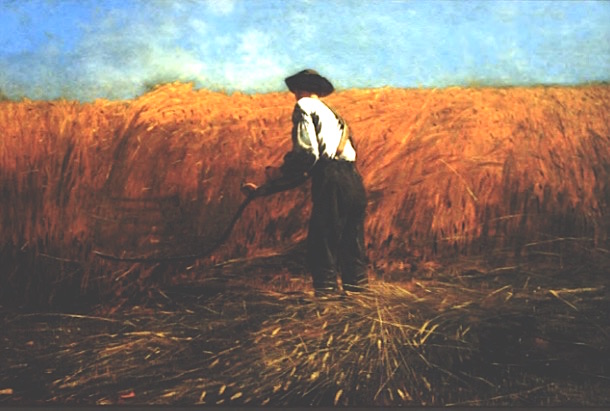 "The Veteran and a New Field," by Winslow Homer (1865), selected from the Metropolitan Museum of Art as the cover Illustration for Donald Hall's memoir "Life Work" (Beacon Press, 2003). 
Why this mention of Donald Hall on the SWI website?  Because –more than anyone else except Robert Frost — he helped me understand what the rural New England psyche was all about, and why it's so tightly tied to fieldstone walls.  He did so for me neither in person nor poetry, but in his literary nonfiction.  I treasure my signed copies of his books, and my memory of when he signed them.  I write this post on the occasion of his very  recent death on June 23, 2018 at the age of 89, the end of a flesh-and-blood life summarized by his obituary in the New York Times.
Why this image of a flat, stone-free, warm, highly productive field?  Because it's everything that Hall's outdoor prose was not,  offering a well-deserved rest from the hilly, hardscrabble, colder, and tougher landscape of his actual life, as exemplified by this passage from  Seasons at Eagle Pond, a collection of essays written from his family farmhouse on New Hampshire's  Grafton Turnpike, and published in 1987 by Houghton Mifflin.
And although we may regret the darkening day, the beauty of late autumn is real and serious. With the leaves down, granite emerges from the hills, and everywhere we see again the hill's true shape and the stonewalls that the ancestors built—to enclose their animals and to clear their fields of rocks—making gray rectangles on the gray hillsides.
My introduction to Donald Hall was through another small book of collected essays —Here at Eagle Pond–wand published in 1990 by Houghton Mifflin.  It's penultimate essay, titled "My New England," helped bond me to New England, having arrived six years earlier as an alienated immigrant from Alaska who arrived married a woman from Maine.  His essay gave me the cultural identity I was seeking beneath the plasticized exit-ramp culture of our lives.   On page 189 he wrote:
Even today, the culture of the North Country derives from people who moved inland from coastal cities to wilderness late in the eighteenth century. The veterans and families who headed for the lonely north selected themselves to work harder than their brothers and sisters, with less comfort, in return or independence.  Six Keniston brothers fought in the Revolution, one of them my great-grandfather Ben's grandfather.  They grew up outside Boston and after the war scattered north along with thousands of their fellow veterans to the woodlands of new Hampshire and Maine and what would become Vermont.
Paul Fenton's ox-cart man brought the dream of liberty north after the Revolution. This independence was not so much the abstraction of the Declaration – lofty, glorious, and Frenchified – as it was a dream  whereby the single unit of a family could exist in benign anarchy without regulation or cooperation.  The liberty boys wanted each man his own nation, little city-states in the hills, small valleys dividing narrow units separated from each other by granite.
Separateness from others was not a price to pay but a reward to win. Settlers built rudimentary houses while they cleared ancient trees and moved rocks, making stonewalls.  Because each family settlement required about forty acres for survival, they could not be crowded. They would never acquire one or save it, but they would contrive their own comfort.  The natural world provided wood for warmth and ice for chilling; add a great garden, with a root cellar for storing apples, potatoes, squash, cabbage, carrots, turnips; add one cow; add deer and turkey shot in the wild, sheep for shearing, maybe flax grown to make linen, bees and sugarbush for sweetness.  In this society, men worked in woods and fields while women labored inside at ten thousand tasks.  Notions of self-sufficiency became a brief reality—which still creates New England character, in the endurance of its superannuated dream.
This works for me. Someone who understands the ionic-strength cultural bond between New England's stone walls and its regional identity.  Or, as I once wrote: "The soul of New England perches on a rock."
---