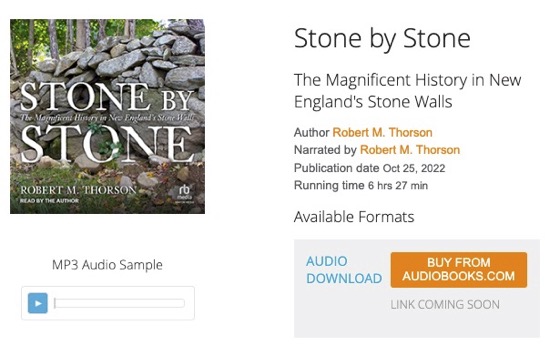 September 2002 saw the publication of Stone By Stone: The Magnificent History in New England's Stone Walls.  Within a week it became a steady New England bestseller. Within the year it went through several hardcover printings and earned the 2003 Connecticut Book Award for nonfiction. By 2004, it was released in paperback.  Originally published by Walker & Company, a new edition was published by Bloomsbury.  The book continues to sell off the backlist.
Throughout it all, there was no audiobook.  This changed in summer 2022 when Tantor Audio, a subsidiary of Recorded Books since 2015, saw an opportunity to publish  this "classic" as an audiobook, doing so on October 25, 2022.  I had the opportunity to read the script.
For those of you who are interested, ask your library to order the audiobook or simply purchase it from Tantor Audio.
---